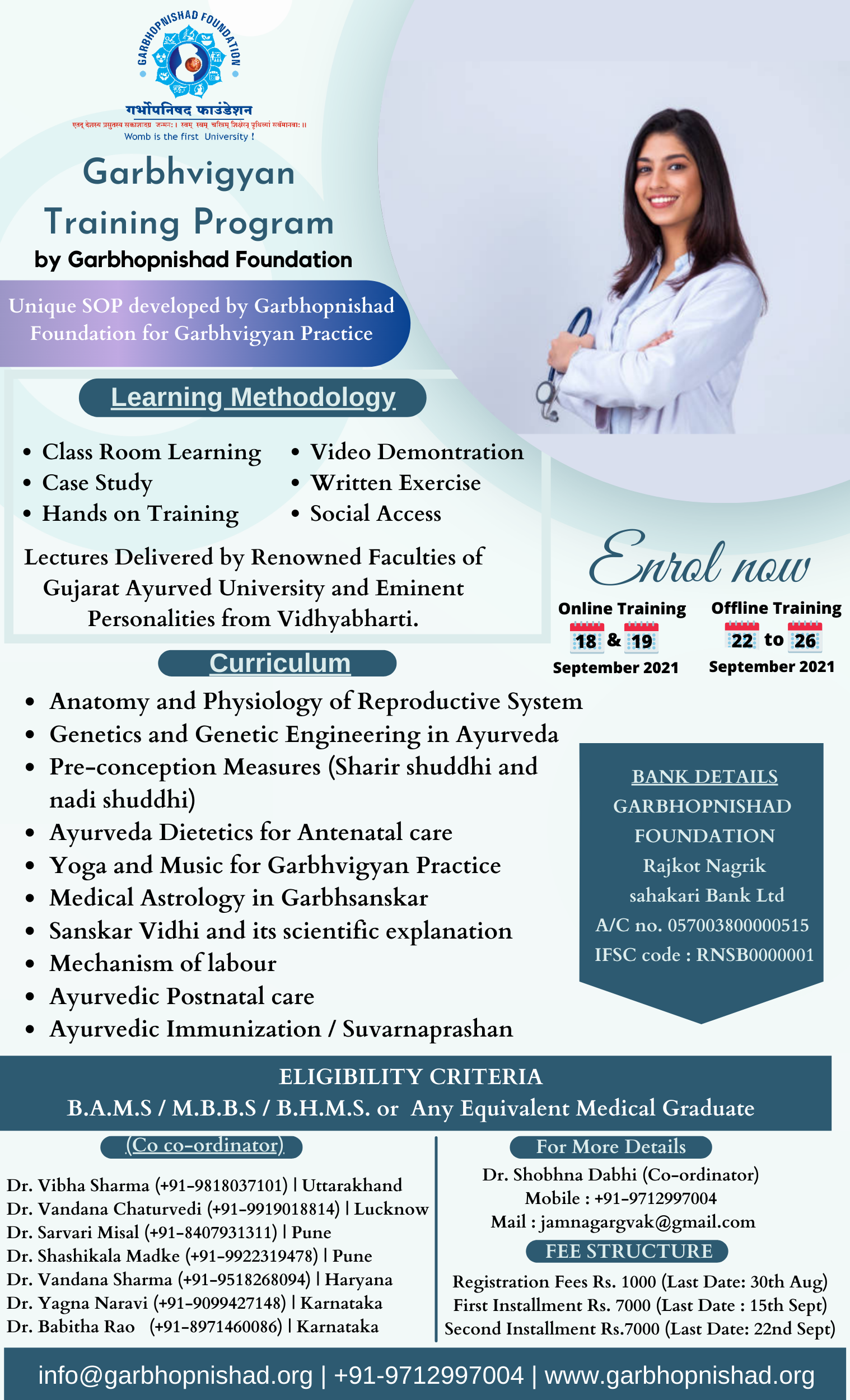 Garbh Vigyan Training Program
Certificate course in Garbh Vigyan/Garbh Sansakar
If you want to practice Garbh Vigyan/Garbh Sansakar in your clinic this course is specially for you.
👍🏻 For practicing Garbh Vigyan/Garbh Sansakar you need not to have very big setup ,but good knowledge is compulsory.
All Eminent Practioners of ayurveda like
Dr. Hitesh Jani,
Dr. Karishma Narwani,
Dr. Laxmikant Kortikar(Maharashtra),
Dr. Gaurang Vyas(Rajkot),
Dr. Neha Pandya,
Dr. Deepak Pandey,
Dr. Apexa Vyas,
Dr. Shilpa Donga,
Dr. Pratixa Desai,
Dr. Pallavi Mehta
Dr. Saravari Mishal(Pune)
Mrs. Harshidaben Joshi (Sansakar Vidhi Expert)
Mrs. Hemangi Dave (Yoga Expert)
Mr. Jayeshbhai Trivedi (Yoga & Music expert)
Mrs. Heenaben Thummar (Antenatal Activity Expert)
will take class for you.
✅ 5 Days , 40 hours, 15 Speakers will teach you Garbh Vigyan/Garbh Sansakar
5 days CERTIFICATE Course In Garbh Vigyan/Garbh Sansakar
You will learn Garbh Vigyan/Garbh Sansakar ki satyakathayen from the eminent practitioners
✅ Starting date 22 September,2021
✅ Ending date 26 September,2021
🕖 Time 9am to 8pm
⏺️ EXPERT SPEAKERS FROM Maharashtra, Pune, Rajkot, Surat, Jamnagar
⏺️ 4 Live sessions
💿 Recordings and PPT Presentation will be available for lifetime
📜 Certificate will be given
⏺️ For registration & complete details
Call on 9712997004
Dr. Shobhna Dabhi (co-ordinator)
🌸🌸🌸🌸
✅ Total Course fee Rs.15000/ only
You will get 2 books & Music CD of 9 Months of Pregnancy
1. Uattam Santati Vigyan,
2. In The Womb Divine Journey of 9 Months
free from Garbhopanisad Foundation
✅For any query whatsapp on 9712997004
Organized by Garbhopanisad Foundation, Jamnagar